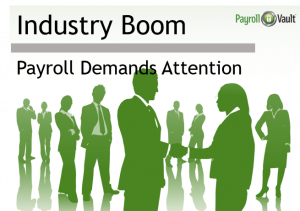 Statistics are continuously surfacing that support the annual growth projections for payroll services industry-wide. In fact, payroll services have remained in the top 5 outsourced services and present boundless job opportunities for payroll professionals and entrepreneurs.
Within the past few years, payroll has remained a hot topic in the marketplace. Legislation continues to push for major changes which affects businesses on numerous levels – labor in particular. Compliance initiatives are growing more complex, and payroll is fundamentally attached to it all.
Payroll professional jobs, salaries, and required skills are amplified in order to meet increased demand to outsource payroll. Advanced levels of skill are required to manage clients efficiently, accurately, and keep up with rapidly changing technology. The industry is poised for substantial growth, and opportunities to enter into this thriving field are abundant.
The increasing number of CPA firms deciding to outsource payroll services, abandon payroll processing altogether, or start-up a new segment of their practice dedicated solely to payroll is significant. A select few have forsaken their CPA practices and begun processing payroll full-time.
The payroll industry is currently about a $37 billion-dollar market and projected to increase to $47 billion by 2019. Employment drives payroll, and it's imperative that employers remain in compliance to avoid steep penalties due to common mistakes or an oversight. The growth of business since recovering from the recession, necessitates for business owners to outsource their payroll which is driving the industry and supporting business owners to help keep them compliant with the ever-changing government regulations.
This time in history is an entrepreneur's dream to tap into the booming payroll industry. Whether you are an accounting professional looking to grow or start payroll as a complete service, or a business professional ready to leave the corporate world in search of your own company, now is the time to seriously think about how you can tap into the successful and stable growth of payroll.