Independent Research Data Shows Franchisees Are Highly Satisfied with Their Investment in Payroll Vault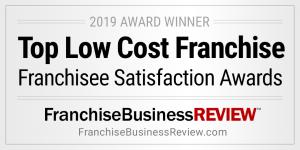 Greenwood Village, CO, April 11, 2019 – Payroll Vault was identified by independent franchisee satisfaction research firm, Franchise Business Review, as being one of only 97 franchises to qualify for its 2019 Top Low-Cost Franchises list. Brands on the list had to have high franchisee satisfaction and an investment of under $100,000 at the time their franchisees participated in Franchise Business Review's survey.
Franchise Business Review (FBR) provides the only rankings of franchises based solely on actual franchisee satisfaction and performance. FBR publishes its rankings of top franchises in its annual Guide to Today's Top Franchises, as well as in quarterly reports throughout the year that rank the top franchises in specific sectors.
Thousands of franchisees representing over 150 low-cost brands participated in Franchise Business Review's franchisee satisfaction survey between September 2017 and February 2019.
Payroll Vault franchisees were surveyed on 33 benchmark questions about their experience and satisfaction regarding critical areas of their franchise systems, including training & support, operations, franchisor/franchisee relations, and financial opportunity.
"One of the most common myths around buying a franchise is that it's too expensive. What most people don't realize is that there are many low-cost opportunities available that can provide the satisfaction and perks of business ownership, without requiring a huge financial investment," says Michelle Rowan, President & COO of Franchise Business Review. "The low-cost franchises that made this year's list have all been rated highly by their franchisees and are excellent options for entrepreneurs considering franchise ownership."
"The Payroll Vault culture is firmly based on flexibility and opportunity. We thrive with change and are grateful we can provide a low-cost option for entrepreneurs to launch their dream of business ownership," states Sean Manning, CEO/Founder. "Our Team is dialed into our franchisees' needs and priorities. Guiding them to their highest level of success is our #1 goal."
Visit FranchiseBusinessReview.com to see the full list of 2019 Top Franchises.
# # #
About Payroll Vault Franchising
Payroll and Human Capital Management services are growing requirements for small businesses. Payroll Vault Franchising offers the opportunity to own a boutique-style full-service payroll company supported by a team of experts and a nationally recognized brand. Franchisees are trained on business best practices and provided systems and strategies to operate a payroll business in an increasingly in-demand industry. As a professional services B2B business you'll experience:  Recurring monthly, quarterly and annual revenue – annuitized revenue, no accounts receivable, and the ability to scale from one location. From the franchise launch in 2012, Payroll Vault Franchising has rapidly grown as a result of exemplary client service and is an industry leader receiving numerous accolades and awards nationally. For more information, visit PayrollVaultFranchise.com.
About Franchise Business Review
Franchise Business Review (FBR) is the only independent market research firm that specializes in benchmarking franchisee satisfaction based exclusively on ratings and reviews from franchise owners. FBR publishes free and unbiased franchisee satisfaction research reports throughout the year online at FranchiseBusinessReview.com.
Media Contacts:
Jessica Martin
Director of Marketing
303.763.1866
Jessica.martin@payrollvault.com
Franchise Business Review
Sarah Brady
Editorial Director
603.373.1552