Independent Research Data Shows Franchisees Are Highly Satisfied with Payroll Vault's Performance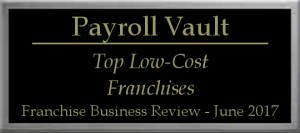 Greenwood Village, CO June 13, 2017 – Payroll Vault Franchising was identified by independent franchisee satisfaction research firm, Franchise Business Review, as being one of only 80 franchises to qualify for its Top Low-Cost Franchises list. Brands on the list had to have high franchisee satisfaction and an investment of under $100,000 at the time their franchisees participated in Franchise Business Review's franchisee satisfaction survey.
Approximately 13,000 franchisees representing 123 low-cost brands participated in Franchise Business Review's low-cost franchisee satisfaction survey between October 2015 and April 2017.
Payroll Vault Franchising's franchisees were surveyed on 33 benchmark questions about their experience and satisfaction regarding critical areas of their franchise systems, including training & support, operations, franchisor/franchisee relations, and financial opportunity.
Payroll Vault's level of satisfaction in areas that are crucial to the health of a franchise system earned it a spot on our 2017 Top Low-Cost franchises list," says Eric Stites, CEO of Franchise Business Review. "With 90% of the 13,000 low-cost franchisees we surveyed saying they enjoy operating their business, low-cost franchises are clearly a great option for many who wish to be their own boss,"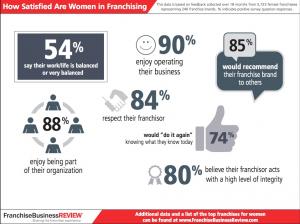 "We are so honored to be recognized by Franchise Business Review as one of the top low-cost franchises of 2017. It's an exciting time to be a part of the franchising world and FBR has been a valuable partner as we continue the process of realizing our potential," stated Tricia Petteys, Co-founder and Executive Vice President of Franchise Operations.
Visit FranchiseBusinessReview.com to see the full list of 2017 Top Low-Cost Franchises.
About Franchise Business Review
Franchise Business Review (FBR) is the only independent market research firm that specializes in benchmarking franchisee satisfaction based exclusively on ratings and reviews from franchise owners. FBR publishes free and unbiased franchisee satisfaction research reports throughout the year online at FranchiseBusinessReview.com.
About Payroll Vault Franchising
Headquartered in Greenwood Village, Colorado, Payroll Vault Franchising provides entrepreneurs the opportunity to start-up their own full-service payroll business with the support of a team of experts and a nationally recognized brand. With decades of experience, Payroll Vault supports their franchisees on business best practices and provides systems and strategies to operate a payroll business in a rapidly growing industry. Since its launch in 2012, Payroll Vault Franchising has grown rapidly due to their unparalleled client service. Payroll Vault Franchising is recognized as a national leader receiving numerous accolades and awards in the industry. For more information, visit PayrollVaultFranchise.com.