CINCINNATI/MASON
Greenwood Village, CO – August 1, 2018 – Payroll Vault Franchising announces the new owner for the Cincinnati/Mason, Ohio office.  Holly Styrcula, entrepreneur and successful local realtor, is ready to continue growing the Payroll Vault brand in her local community and provide another useful and necessary service embedded with trust and enthusiasm.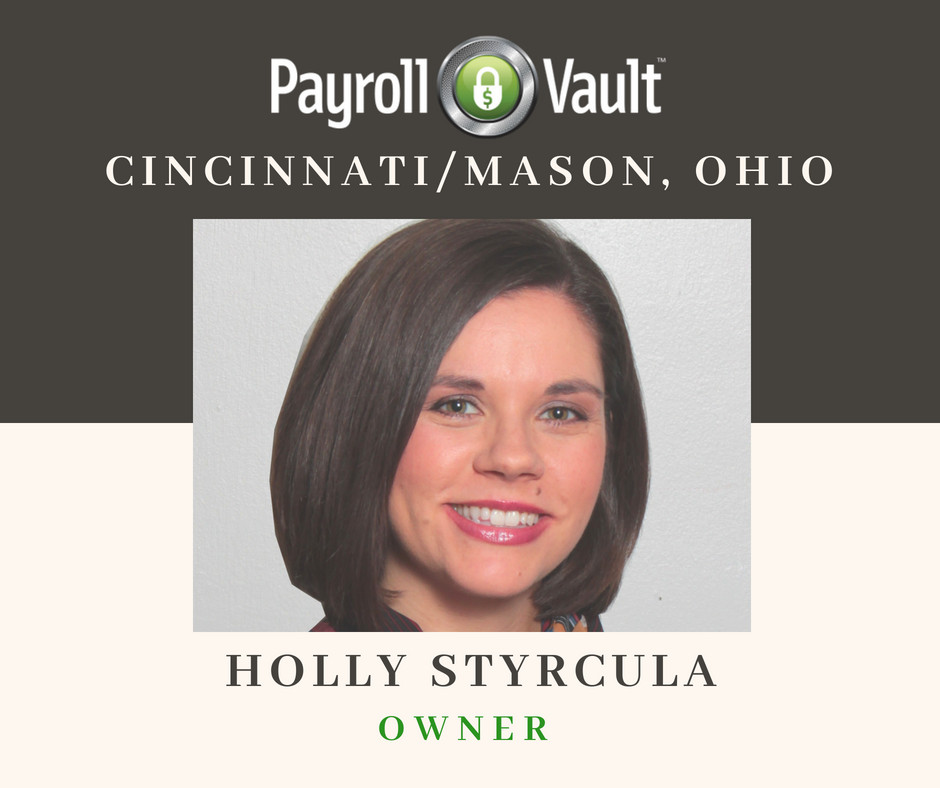 Holly came across the business opportunity when networking in her local community. Deciding it was imperative to bring a trusted service provider to her local community, she stated, "I am very excited to stand behind a brand that is nationally known for the relationships they have with their clients and the expertise in all things payroll.  Getting out in the community and sharing our brand with other business owners for awareness to our custom-built approach to offering what our clients need and want instead of a one-size fits all package is my goal. Our goal is to support local businesses to help them focus on what they do best; be it making coffee, auto repairs, or dental work and let us handle the payroll."
"Built from the heart and with a drive to support each local business community, we continue to attract entrepreneurs that are wanting to dedicate to their professional community," stated Payroll Vault Franchising CEO/Founder Sean Manning. "Our foundation is expanding stronger and faster than projected. The inspiration and dedication of each new owner openly displays that our legacy and new-coming franchise owners are digging in and are focused on designing payroll for small businesses. We look forward to following Holly's continued success within her local community and with the Payroll Vault brand."
# # # 
About Payroll Vault Franchising
Payroll Vault Franchising provides entrepreneurs the opportunity to start-up their own small business with the support of our team of experts. With decades of experience, we instruct our franchisees on small business best practices and providing payroll support. Since its launch in 2012, Payroll Vault Franchising has grown rapidly as clients realized the immense value of the service as a business. As a result, today Payroll Vault Franchising is recognized as a national leader in the industry. For more information, visit PayrollVaultFranchise.com.
Contact:
Jessica Martin
Payroll Vault Franchising
Director of Marketing & EPM
303.763.1866
jessica.martin@payrollvault.com