Independent Survey Shows Payroll Vault Ranks Highest in Franchisee Satisfaction within the Top 200 Franchise Brands
Greenwood Village, CO – Payroll Vault was recently named Best-in-Category in Franchise Business Review's list of the top franchises for 2019. This is the 14th annual ranking of the top 200 award-winning franchise opportunities. The list is available at https://franchisebusinessreview.com/page/top-franchises/.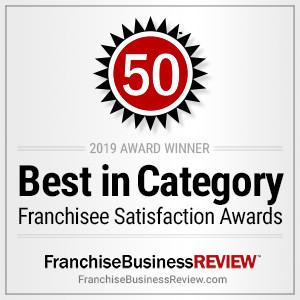 Payroll Vault is a boutique style payroll services provider that designs payroll for small businesses. The franchise's growth is based on the appeal of local access while leveraging a nationally recognized brand. Elite client service sets Payroll Vault apart from industry competitors.
Franchise Business Review, a franchise market research firm that performs independent surveys of franchisee satisfaction, provides the only rankings and awards for franchise companies based solely on actual franchisee satisfaction and performance. Franchise Business Review publishes its rankings of the top 200 franchises in its annual Guide to Today's Top Franchises.
Payroll Vault was among 310 franchise brands, representing over 30,000 franchise owners, that participated in Franchise Business Review's research. Payroll Vault's franchisees were surveyed on 33 benchmark questions about their experience and satisfaction regarding critical areas of their franchise systems, including training & support, operations, franchisor/franchisee relations, and financial opportunity.
"There are thousands of different franchise opportunities available to prospective business owners today, with more popping up every day. It's a great time to 'be your own boss' but it's also important to do your homework to find the right fit," says Eric Stites, CEO of Franchise Business Review. "Our independent research of franchisee satisfaction helps entrepreneurs discover the top franchise opportunities in every industry category – including fitness, travel, food, services, and retail. This year's Franchisee Satisfaction Award winners truly are the best-of-the-best."
"We are extremely excited for our franchisees and the success they are having with their Payroll Vault Franchise offices. They are testimony to the foundation that we have for a successful business model, and the systems, strategies, training and support that we provide for them all goes together for their success. We look forward to 2019 to continue to grow our extremely unique franchise brand and flex our national footprint as an elite payroll company. We are honored to receive the recognition from FBR, and most importantly, our franchisees," stated Founder/CEO Sean Manning.
Visit FranchiseBusinessReview.com to see the full description of the 2019 Top Franchises.
# # #
ABOUT PAYROLL VAULT FRANCHISING
Payroll and Human Capital Management services are growing requirements for small businesses. Payroll Vault Franchising offers the opportunity to own a boutique-style full-service payroll company supported by a team of experts and a nationally recognized brand. Franchisees are trained on business best practices and provided systems and strategies to operate a payroll business in an increasingly in-demand industry. As a professional services B2B business you'll experience:  Recurring monthly, quarterly and annual revenue – annuitized revenue, no accounts receivable, and the ability to scale from one location. From the franchise launch in 2012, Payroll Vault Franchising has rapidly grown as a result of exemplary client service and is an industry leader receiving numerous accolades and awards nationally. For more information, visit PayrollVaultFranchise.com.
ABOUT FRANCHISE BUSINESS REVIEW
Franchise Business Review (FBR) is the only independent market research firm that specializes in benchmarking franchisee satisfaction based exclusively on ratings and reviews from franchise owners. FBR publishes free and unbiased franchisee satisfaction research reports throughout the year online at FranchiseBusinessReview.com.
MEDIA CONTACTS:
Jessica Martin
Payroll Vault Franchising
Director of Marketing & EPM
303.763.1866
Jessica.martin@payrollvault.com
Franchise Business Review
Sarah Brady
Editorial Director
603.373.1552