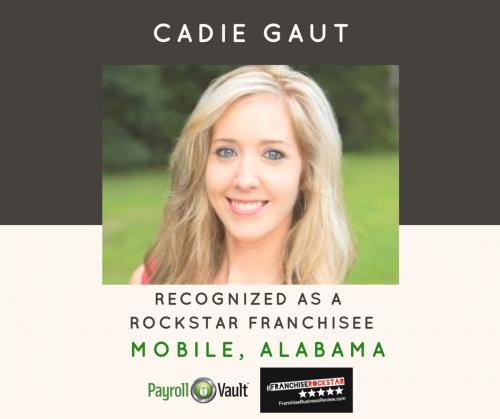 Mobile, Alabama, April 17, 2018 – Payroll Vault's Cadie Gaut was identified by franchisee satisfaction research firm, Franchise Business Review, as being one of 2018's 50 Rockstar Franchisees.
Gaut was selected from over 28,000 franchisees, representing more than 300 brands that participated in Franchise Business Review's research in the past 18 months.
"There are some many fantastic success stories out there; it was painful to narrow our list down to just 50 Rockstar Franchisees," said Michelle Rowan, President of Franchise Business Review. "There were hundreds of deserving business owners. In the end, we picked 50 individuals that really stood out. Franchisees that not only excel in their businesses but provide strong leadership within their franchise organizations and their local communities."
The 50 Rockstars recognized were nominated by their franchise brand leadership as a franchisee who sets an admirable example when it comes to leadership, business acumen, financial and professional success, and contributing to their community.
"The excitement that is felt from the success of our franchise owners is overwhelming," stated Tricia Petteys, Co-founder/COO. "Cadie Gaut is one of our strongest leaders and we look forward to many more successes from her team and her!"
"I am absolutely honored to receive this recognition," stated Cadie Gaut, Owner.  "My team works extremely hard to ensure that our clients receive the best possible service and the business would not be where it is without them. We are also a success thanks to the tremendous and continuous support we receive from Payroll Vault."
Visit FranchiseBusinessReview.com to see the full list of 2018 Rockstar Franchisees.
# # #
About Payroll Vault
Payroll Vault was created to serve the specific payroll service needs of businesses of all sizes. The company's mission is focused on providing quality payroll services and solutions, complemented with outstanding customer service. Supported via an advanced and secure web-based technology platform, Payroll Vault offers a highly convenient, efficient, and real-time solution for clients. Payroll Vault is a national leader within the independent payroll service provider market. Learn more at PayrollVault.com.
About Franchise Business Review
Franchise Business Review (FBR) is the only independent market research firm that specializes in benchmarking franchisee satisfaction based exclusively on ratings and reviews from franchise owners. FBR publishes free and unbiased franchisee satisfaction research reports throughout the year online at FranchiseBusinessReview.com.
Media Contacts:
Jessica Martin
Director of Marketing
303.763.1866
jessica.martin@payrollvault.com
Franchise Business Review
Ali Forman
B2B Marketing Manager
603.319.4818
ali@franchisebusinessreview.com