Making the Most of Every Interaction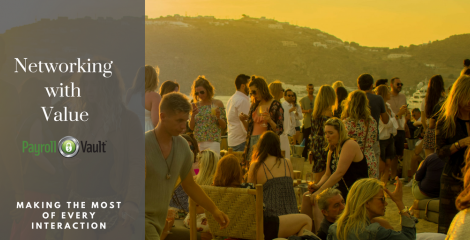 Making the Most of Every Interaction
Networking for Business
Networking is as much of a strategy as it is fun. When you are researching on where to go or simply venturing out, here are some tips on how to make the most of your interactions.
Seek New People – You Never Know Who You Need to Know
What's the point of attending a business networking event if you don't actively seek new people to meet and discuss business with them? Set an easy minimum goal for yourself to meet at least three new people at each event you attend, or hey be bold and go for six! You will grow your network exponentially if you meet new people at every event.
Business Cards – They Need to be Wherever You Are
Always, always, ALWAYS have your business cards with you wherever you go. You will most likely always have opportunities to attend social activities that provide the opportunity for you to meet new people, and the ability to let your friends and colleagues know about your business. You never know who you might meet that could use your business' service.
Arrive Early for Best Benefits
A good strategy for attending networking events is to arrive early. You will be less stressed, score a better parking space, and have a moment to introduce yourself to the people hosting the event who will likely in turn have time to introduce you to other professionals arriving at the event.
Where Should You Network?
Before joining a leads group, association, or Chamber of Commerce be sure to attend some of their events and meetings as you want to make sure that the right types of business owners and professionals will be there for you to network with. Most organizations allow you to attend as a non-member or offer a few meetings to attend complimentary before they will ask you to join.
The goal is to meet new people and begin developing relationships and even friendships. It is proven that the more consistency you display, the more your peers and colleagues will want to work with you.