With a little planning and time for execution, you can make the process of onboarding a new employee a smooth process. Here's what it takes to properly onboard a new hire.


Business owners know the impact staffing has on the success of their venture. A great team is the best reflection of your product or service. For that reason, many owners put extensive resources into the hiring process. After all, you want the best possible team in place.
But once you find the right people, the job is not done. You still need to prepare them to perform their responsibilities to their highest capacity.
Onboarding is an essential aspect of your business model and can be the difference between a well-run operation and a misuse of talent. To ensure the talent that you recruit will reach its full potential, here are some of the key onboarding tasks to include in your new employee orientation checklist.
Pre-Employment Screening
The onboarding process begins even before the hiring process is complete. Pre-employment screening is one of the final chances to validate your confidence in a new hire before they walk in the door, involving varying levels of urgency.
Screening can range from drug testing and DUI records to simple address and employment history confirmations. Whichever type of screening you decide is best for your business, you'll have verified that there is nothing in the employee's background that should be a red flag for the position of consideration.
New Hire Forms
A large portion of your new employee orientation checklist will involve paperwork. We've all done it and likely rolled our eyes at times. However, these forms can go a long way.
Some of these forms will ensure the employee and the employer have the proper documentation, such as employment classifications (I9 Form) and certain necessary tax information (W4 Form and various state withholding forms).
A comprehensive employee handbook will serve to cover information key to the lifecycle of the employee's time at your company. It will convey the payment schedule and verify that the employee's payroll information and benefit enrollment information. It can also provide the employee with important information about the position in general. From clearly outlined job responsibilities to holiday observances, work schedules, paid time off policies, security and office rules, there are several areas of interest for the employee to be well versed.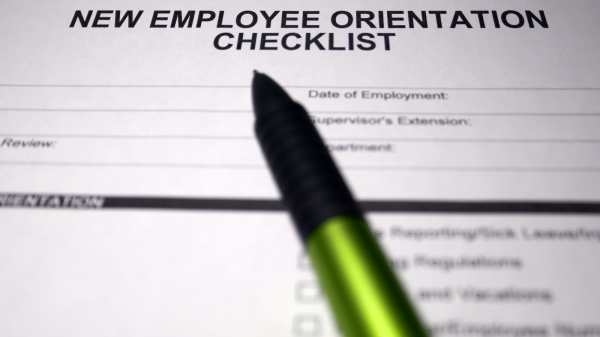 Training
Every business has a specific way of operating, and dedicated training for new employees is the key to smoothly integrating them into the workflow.
Training can come in the form of online tutorials and videos, one-on-one shadowing, group in person or online, and actual old-fashioned self-paced book learning. A robust training program usually has all of these items integrated to allow for employees to take advantage of the best type of training that works for them.
In addition to teaching a new employee your systems and processes, training is also the perfect opportunity to share your organizational culture. A workforce needs to operate toward a common purpose, no matter the differences in each employee's duties.
Don't be afraid of taking time in the training process. It is best to get things done right the first time, and it also helps to check in with your new employee, ensuring that the correct information and mindset is being translated.
Consider Outsourcing
While onboarding is a necessary and common process, many small-business owners are too short on time to fulfill those obligations as thoroughly as they would like. The face-to-face training is, of course, necessary. However, there are certain HR and payroll solutions for small businesses to outsource some of the aspects of new employee orientation.
Payroll Vault can ensure that all the necessary documentation and paperwork is handled correctly, saving small businesses time and money in the short and long term. That way, you can focus on improving the business to which you've dedicated so much effort.
More information and HR resources can be found here.