Starting the Conversation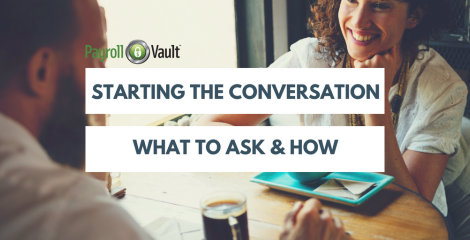 Starting the Conversation
What to Ask & How
Referral – What to Ask
Lead generation can be achieved through ample channels and tactics and among the top are networking, exhibitions/tradeshows, referrals, and digital marketing strategies.
The development of Referral Partners is perhaps the most underused aspect of networking. Referral Partners are a trusted resource and positioned to readily refer business – they are your top lead passers. Your referral network is an integral component to the success of your business development and overall sales efforts.
There are many reasons for the understated importance of Referral Partners, and all can be overcome by recognizing their value and creating good habits. First, you have to ask!
Ask: Will You Refer Business?
People generally love helping others, and especially when they have experienced authentic and valuable customer service. Research has uncovered that 91% of clients would gladly give referrals, but only 11% of salespeople ask.
You've worked hard to provide a value to your clients, vendors, and other professional relationships. Don't assume that your work is done here - that they will graciously spread the good word about your services, and exemplary client management. There is nothing to fear; confirm their trust and satisfaction with your company and simply ask the question, "Will you keep us in mind when you hear that your clients/colleagues need assistance or are struggling with their payroll processing?"
Tactics
Some say that asking for referrals is a numbers game much like cold-calling, networking, and exhibiting. The fact of the matter is, when you have provided exemplary service you can have a handful of strong referral partners that will maximize their, and your sales effortlessly. Keeping this in mind, there are many effective and respectful tactics that can be used to ask for referrals.
Face-to-face is a powerful approach because it adds a sense of accountability and sincerity. There are several opportunities in which you can ask in person.
1. When you close the sale or have a final meeting, and everyone is raving about the customer service you have provided, this is an opportune time to say thank you and ask for referrals. Determine which questions are most comfortable for you to ask, write them down, practice asking, then apply.
2. Sometimes a gentle wait is in order; people can be more open to making referrals once they've had some quality time with your products and services – a trial and error period. In these cases, wait a month, and then present the question.
Letters, emails, and drip campaigns are equally as effective. If asking for referrals hasn't been a consistent practice, you have missed opportunities. In these instances, employ a scripted approach.
1. Handwritten thank you letters are powerful, and show thoughtfulness, and will also work when asking for referrals. It conveys a sense of detail, care, and that they are worth your time and effort.
2. Emails can be crafted with sincerity and a direct tone that works well with colleagues and companies with which you've built trusted relationships.
3. Now that you've asked, you'll want to maintain a top-of-mind presence. A well timed, crafted series of emails scheduled to touch base with your network serves as a reminder that you are here and interested in receiving referrals. A best practice for this tactic is once quarterly.
Leaving behind business cards is an effective way to ask for a Referral Partner to pass along your information, which will also create a physical presence and reminder to your contact. Our line of sight is a powerful persuasion tool.
Make asking for referrals a habit. The more you ask, the more you'll receive in turn. In making The Ask a habit, you are creating a best practice within your business process. The Ask will:
1. Drive sales dramatically
2. Foster healthy relationships
3. Remove the fear of no
4. Compliment all sales and business development efforts
Assumptions don't fill our databases, build lead sources, or supply us with sales. The simplicity of asking a question is an indispensable way to substantially increase sales, build and maintain relationships, and implement a known operative business skill.