Strengthening Referral Relationships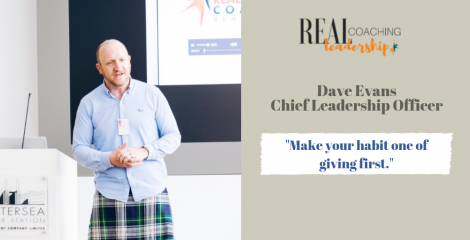 Strenthening Referral Relationships
'Make your habit one of giving first'
Written by: Dave Evans
Chief Leadership Officer
Real Leadership Coaching
There are many ways to strengthen referral partnerships and relationships in your market today. Yet first we must remember 'WHY' they are important and how they can become a real growth program for your company.
Referral Relationships are a set of exclusive and personal relationships you hold with business services in the area you serve. Whether they are from network groups, professional services, committees you are part of or national members associations – they all provide an opportunity to grow your business.
Business growth whatever industry you are in, takes time to nurture and start, taking the time and prioritizing this activity is a must today wherever you trade in the world, online or serve your customers and clients. Forming deep relationships are a resourceful way to manage and directly influence the growth in your company.
Like anything you have to have the right Mindset first. At RLC we often teach the idea of treating each business conversation or meeting as a Future Client Meeting. Meaning, imagine the person you are talking to becoming your client? How would you treat them? How engaging would you be? Are you listening like your life depends on it?
Having a referral relationship mindset is paramount to getting the most out of your network and contacts and making sure you are ready to act, give value in advance. If you have not created your referral partner or relationship STOP NOW and do it right away.
Here are some things you can do to engage with or keep engaged your referral relationships:
Send a gift [like the ones from Cellar Angels]

Refer them to your network

Ask them to speak at your local network

Plan regular check-in's, to measure the progress of both parties [twice a year]

Share good news with them in email, text or a phone call – stay connected

Encourage them to apply for a recognized award or better still nominate them

Host an event filled with their ideal clients
TOP TIPS YOU CAN DO TODAY
Build referrals in to all business conversations

Ask for 3 or more referrals

Be prepared in advance to refer people on

Ask great questions about

Who are the prospects ideal clients?

Who do they like to do business with?

What is their niche?
To learn more about Real Leadership Coaching, click here.