We make "Payroll" easy!
When you employ your local Payroll Vault, you access a dedicated team to ensure you are compliant, and gain access to our suite of services that guarantee you are supported with cutting-edge technology solutions to make your payroll processing simple and secure. Our commitment to help businesses succeed, combined with our unparalleled customer service, allows us to successfully customize and highly personalize your services.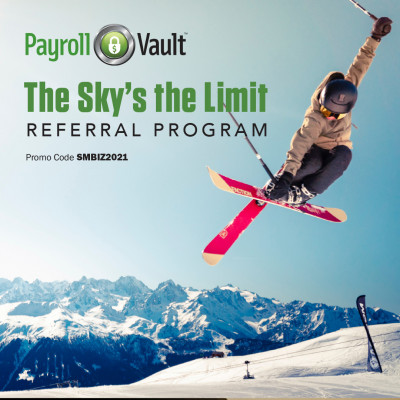 Referrals Help Make Business Stronger!
From September 1, 2021 through January 31, 2022 submit your payroll and workforce management referrals to Payroll Vault to have your name entered into a drawing to win up to $1,000 toward your perfect investment – your business, employees, a local small business client, a local small business, or a favorite charity. The more referrals you send our way, the higher your chances are to win!
What do you do? Send us referrals via  https://www.payrollvault.com/give-to-get-referral-program.html.  Don't forget to use our promo code SMBIZ2021. For each referral we receive from you, your name will be entered into a drawing to win. If you provide 10 referrals, your name is entered 10 times to win!
The Payroll Vault Value
Compliance assurance
Custom reporting
Easy communication with reliable team
Comprehensive business administration services available
NO CONTRACTS!
Payroll Vault of Centennial's goal is to meet the needs of local small businesses in our growing professional community. We are locally owned and managed all payroll processing and tax reporting in-house. We offer comprehensive payroll solutions, background checks, timekeeping, outsourced HR solutions, and are able to handle multi-state payroll and tax reporting.
We can processes payroll for any small to midsize business, such as medical clinics, pharmacies, restaurants, retail, preschools, consulting businesses, convenience stores, law offices, non-profits, and auto repair shops.
Proud members of the American Payroll Association, Payroll Vault of Centennial is your best choice for payroll services. Call us today!

Assign Now
Assigning You With OSHA Compliance
First AID. Written safety plans. Safety training DVDs, OSHA safety Posters and more...